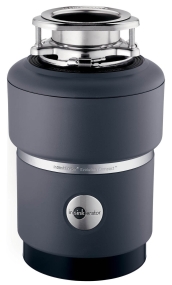 The InSinkErator Evolution Compact is a very popular garbage disposer. This is no surprise, it is a good garbage disposer at a reasonable price. It is powerful enough to manage all normal household waste and it is also very quiet. According to the manufacturer, it is 30% quieter than typical waste disposers.
The Evolution Compact has all the features you would expect from a high quality garbage disposers. Most important is of course to avoid jams. The InSinkErator Evolution Compact does not have any problems with jams, as long as you only feed it normal food waste. Chicken bones are no problems. It has also proven to be a high quality garbage disposal, lasting for many years. Problems with rust, leaking or broken units are very rare.
One thing to be aware of is that one reason the Evolution Compact is very quiet is the rubber ring/gasket that comes with the garbage disposer. It keeps the noise down but it also slows down the water flow into the disposer. It is not really a problem but it can be good to know before you buy.
Before you can start using the Evolution Compact garbage disposer, it has to be installed. This is straight-forward but can take quite some time. Often, the most difficult part is to remove the old garbage disposer. Plumbers putty is not really necessary but you may want to have some available, just in case. Make sure to check that you have enough space under the sink. Despite being named compact, the InSinkErator Evolution Compact is relatively large.
Insinkerator estimates the average water usage to approximately 1 Gallon per person per day. Average electrical usage is estimated to 3-4 KWh per year.
The InSinkErator Evolution Compact Garbage Disposer is covered by a 4 Years All Parts and Labor warranty as well as an in-home service warranty. The warranty is limited to the original buyer only. Note that a power cord is not included with the InSinkErator Evolution Compact.


Pros
Cons
Relatively large for being a compact model


You get the following with the InSinkErator Evolution Compact:
Quick Lock Sink Mount
Quiet Collar Sink Baffle
Jam-Buster Wrench
Anti-Vibration Tailpipe Mount
Anti-Vibration Mount
Stainless Steel Sink Stopper


InSinkErator Evolution Compact Specifications
| | |
| --- | --- |
| Feed | Continuous |
| Motor | 0.75 HP |
| Voltage | 120 V |
| Current | 8.1 A |
| RPM | 1725 RPM |
| Grind Chamber | 34.6 Oz |
| Drain Connection | 1 1/2" Anti-Vibration (Hose Clamp) |
| Dishwasher Drain Connection | Yes |
| Mount System | Quick Lock |
| Height | 12 1/8 |
| Width | 8 |
| Shipping Weight | 19.5 lbs |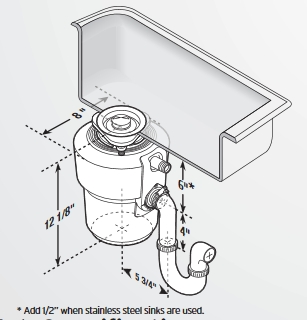 What the Customers Say about the InSinkErator Evolution Compact Garbage Disposer
The customers have given the InSinkErator Evolution Compact an impressive average rating of 4.7 out of 5. In other words, virtually all of the buyers were very happy with their new garbage disposer. Almost everyone said that the InSinkErator Evolution Compact is quiet and powerful. Most of the customers also said that it was easy to install.
No problems with jams were reported. On the contrary, most of the buyers were very impressed how powerful the InSinkErator Evolution Compact is. Especially given how quiet it is. Very few problems with broken or leaking units were reported.
The main complaint was that water is draining slowly. As mentioned earlier, this is due to the rubber ring/gasket that comes with the garbage disposer. It helps containing the noise inside the unit but it also restricts the flow into the disposer. A few buyers meant that given the price, one could expect a power cord to be included.
Here are some typical comments:
"Quality garbage disposal. Very easy to install. This unit is a workhorse. I use it constantly. Have had it over a year now and never had a problem — never had a jam and never even needed to use the key at all. It does a thorough of grinding everything up that I put down it. Highly recommend!"
"A very good quality garbage disposal unit. Has lots of power to handle tough jobs (chicken bones, potato peelings etc). Also, the quietest disposal unit that I have experienced. It took us a while to make sure the unit was shut down because it was so quiet when running."
"Perfect fit no added plumbing required. Just remember to pop dishwasher plug out BEFORE installation. Doesnt come with any wiring but I direct wired with conduit. Extremely quiet and double blades crushed ice in seconds."
"This is by far the best disposal I have ever bought. You can tell by the way the item is packaged on the quality of product you are receiving. It has two blades for grinding and is super quiet! Install was super easy! Would definitely recommend!"
Customer remarks have been paraphrased to save space.
You can read more InSinkErator Evolution Compact customer reviews here
InSinkErator Evolution Compact Review Summary
Quite clearly, the InSinkErator Evolution Compact is a very good garbage disposer. It is not the cheapest garbage disposal but you get what you pay for. The Evolution Compact is powerful but quiet. It does not really have any significant shortcomings. If you are looking for a good garbage disposer and want good value for your money, you should certainly have a closer look at the InSinkErator Evolution Compact.
You can buy the InSinkErator Evolution Compact garbage disposer at Amazon.com, taking advantage of Amazon's low prices and excellent customer service. Click here to go to Amazon.com