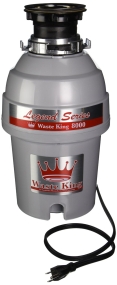 The Waste King Legend Series 8000, often called L-8000, has been one of the most popular garbage disposals for a very long time. The main reason for its success is that it is a very good garbage disposal and the price is low.
Garbage disposals are seldom noticed, once installed, they are supposed to do their work for years without any hiccups. Unfortunately, far from all garbage disposers just keep on going without any problems. The Waste King Legend Series 8000 is one of the best garbage disposers on the market, and it has been proven to last.
The Waste King 8000 is very powerful, fast and efficient. The grinding chamber is made of glass-filled polyester, so there will be no problems with rust. The powerful motor minimizes the risk of jams. Garbage disposers are not silent but the L-8000 is reasonably quiet. Like most other garbage disposers, it has a dishwashers inlet. Just remember to remove the knock-out plug before connecting your dishwasher to the L-8000.
The Waste King L-8000 is safe for properly sized septic tanks. It comes with a 36 inch power cord. But it can also be hard-wired without voiding the warranty. The Waste King 8000 uses the EZ Mount system. It is easy to install, no special skills or tools are needed. But a little bit of plumber's putty might be useful. If you prefer the 3-Bolt Mount system, then the Waste King 9980 is the right garbage disposer.
The L-8000 comes with a lifetime in-home service warranty. Note that this lifetime warranty is limited to the original purchaser.
Note that the Waste King 8000 is a relatively large garbage disposal, so make sure that you have enough space under the sink before you buy.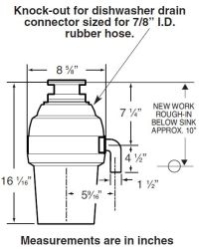 Pros
Powerful
Lifetime In-Home Service Warranty
Excellent Value for the Money
Cons


Waste King Legend Series 8000 Specifications
| | |
| --- | --- |
| Motor | 1 HP |
| Motor Speed | 2800 RPM |
| Motor Type | Permanent Magnet |
| Feed | Continuous |
| Voltage | 115 V |
| Amps | 7.0 A |
| Stopper | Positive Seal |
| Sink Flange | Stainless Steel & Celcon |
| Splash Guard | Removable |
| Waste Elbow | ABS |
| Grid Ring | Stainless Steel |
| Swivel Impellers | Cast Stainless Steel |
| Turntable | Stainless Steel |
| Hopper | Glass Filled Nylon |
| Grinding Chamber | Corrision Proof Glass Filled Polyester |
| Overload Protector | Manual Reset Type |
| Power Cord | Yes, 36 inch |
| Shipping Weight | 14.83 lbs |
What the Customers Say about the Waste King Legend Series 8000
The customers have given the Waste King L-8000 an impressive average rating of 4.6 out of 5. Quite clearly, most of the buyers were very happy with their new garbage disposer. Virtually everyone thought that they had got very good value for the money.
According to the buyers, the Waste King L-8000 was easy to install. Additionally, it is fast and efficient and no trouble with jams. Most people said it was relatively quiet, apart from a clicking sound when it starts. But a few of the customers disagreed and said the L-8000 was relatively loud.
A few L-8000 had started to leak which was the main complaint. Unfortunately, this is a common problem with garbage disposers. Fortunately, most of the L-8000 had no problems with leaks.
Here are some typical customer comments
"I am so happy with this disposal, it is quiet, easy to install. I really like the sink stopper as it has a longer handle making it easy to grab when wet. It has a powerful motor and can grind anything we have thrown it's way quickly and quietly."
"Easily the best garbage disposal on the market. Fairly quiet considering how powerful it is. It only needs to be turned on for 3 seconds to grind up anything in the sink. We have had ours for 3 years with no issues!"
"The total time it took me to open the box, unpack the disposer, remove old disposer, and install the L-8000 was 25 minutes… without a single problem! Reading ALL the instructions and having the tools and supplies ready before hand made it SO simple. Removing 3-bolt mount and install the Waste King EZ Mount System was very easy. It tied into existing plumbing perfectly, without any modifications. It is very powerful and seems much quieter than the Badger I replaced."
"Wow. That's all I can say. Amazing deal on a high horsepower garbage disposal. SUPER quiet, VERY easy install, only needed one new piece of drain tubing to fit into current plumbing configuration. Didn't need any extra parts or attachments to fit it to my sink basin, it was all included. I couldn't be happier."
Customer remarks have been paraphrased to save space
Here you can read more Waste King L-8000 customer reviews
Waste King Legend Series 8000 Review Summary
The L-8000 is without slightest doubt a very good garbage disposer. It is easy to install, reasonably quiet and powerful. The price is very competitive, giving you excellent value for the money. Quite clearly, if you are looking for a powerful garbage disposal and want good value for your money, then you should have a closer look at the Waste King Legend Series 8000.
You can buy the Waste King Legend Series 8000 Garbage Disposal from Amazon.com, taking advantage of Amazon's low prices and excellent customer service. Click here to go to Amazon.com and have a look at the Waste King L-8000